Dental implants can be real game-changers for people with missing teeth. They not only restore your smile but also make your mouth function better. Having unhealthy or missing teeth can make it hard to eat. Dental implants can help relieve that pain and can also keep nearby teeth healthy. Many people don't realize this when they first hear they'll need dental implants.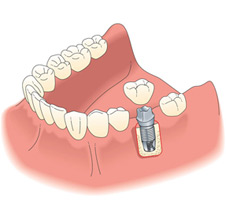 If you're considering dental implant dentistry in Hollywood, Florida, it's important to have some knowledge before the procedure. Here are some things you should understand before getting dental implants.
What Do Dental Implants Do?
A dental implant is a prosthetic tooth that resembles a natural tooth. It consists of both a root and a crown. Dental implants resemble natural teeth and are often the recommended procedure for people missing teeth.

When you visit a Hollywood, Florida implant dentist, they will recommend one of two types of dental implants, either endosteal or subperiosteal.

Endosteal implants are the most common and hold one or more prosthetic teeth. A titanium screw or post is placed into the jawbone for this type of dental implant.

Subperiosteal implants are placed on the upper side of the jaw. There is a metal framework attached to provide support to prosthetic teeth.
What Are the Benefits of Dental Implants?
As you look into dental implant dentistry in Hollywood, Florida, it's important to know the benefits of dental implants. These include:

Restored smile and improved speaking
Provides stability to your mouth
Supports dental bridges and other oral prosthetics
Helps avoid bacterial infections and other problems
Built-to-last (can last a lifetime if cared for properly)
If you take care of your dental implants, just as you would regular teeth, they can last a lifetime. This means brushing them daily and keeping up-to-date on all dental visits. If you do this, you shouldn't have to have another dental implant procedure in the same area.

Do You Want to Know More About Dental Implants?
If you're looking for a Hollywood, Florida implant dentist, call Dr. Karen Gordon. Dr. Gordon is highly experienced when it comes to dental implants. She will let you know if they're right for you. Call 954-983-9004 today to request an appointment online to get started. We look forward to meeting you!