Emergency Dentistry in Hollywood, Florida
What Is Emergency Dental Care?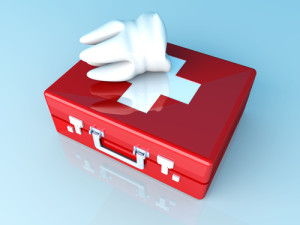 If you have never needed emergency dental care, consider yourself lucky. While most people think of broken bones or bad injuries as typical medical emergencies, the truth is that your teeth and gums may need immediate attention at some point as well. This is why it's important t
hat you have an emergency dentist in mind, just to be prepared for anything that could happen.
If you or someone you know is in need of immediate dental care in south Florida, please call Karen Gordon, DMD at (954) 613-9837.
We will be happy to advise you in how to handle your emergency.
For those who aren't in need of a dental emergency, you may not want to disregard this information. In fact, knowing who you are going to call in the event that you need immediate dental care will help save you from a variety of different issues and concerns.
What Are the Benefits of Emergency Dental Care?
Accidents happen every day. One minute you are chewing on your favorite candy, and the next moment you have experienced a broken tooth. For most people, suffering a broken tooth can lead to excruciating pain. However, believe it or not, some people who have suffered from a broken tooth will not have the problem fixed for many months.
Here at Karen Gordon Family and Cosmetic Dentistry, we aim to educate people of the problems that can occur if you do not have your tooth treated as quickly as possible. Even if you can withstand the pain, you are still putting yourself at risk of other problems such as:
Further damage that spreads from the break.
Cavities and other physical flaws.
Damage to the root and other parts of the tooth below the surface.
Gingivitis and other problems associated with the gums.
Finding an emergency dentist isn't something that you should do without proper due diligence. We highly recommend that you take the time to find a dental practice that gives you a comfortable feeling. The problem is you may not have that time to consider all of your emergency dental options if you are in need of immediate help. This is why it's always a good idea to find an emergency dentist beforehand and then have them in mind if you need them.
What Is the Process for Emergency Dental Work?
Each emergency situation is going to be a bit different. For someone who has broken a tooth, it will take at least 30 minutes to fix the problem. However, if you have experienced a more severe problem, then your dentist will need to assess the problem and give you a more accurate timetable.
We know that your schedule is tight and finding time to visit the dentist is hard. However, we also want our patients to know that we highly advise against avoiding making a trip to the dentist. If you can withstand the pain, you may think that you do not need to get immediate help. The longer you let your dental emergency go untreated, the more damage that could occur. By getting in and seeing us quickly, we can fix the problem. It's certainly an investment worth making when you consider your oral health.
Advantages?
You only get one set of teeth in life. Therefore, it's vital that you take care of your oral health. If you have sustained damage to just one part of your tooth, there is no telling what sort of infection could set in inside of your mouth. If this happens, then you run the risk of losing more teeth or having more problematic oral damage. It's our goal to help you avoid that by providing you with emergency dental care when you need it most.
With emergency dental care you get:
A reliable dentist that you can trust during an uneasy time.
Repair to the tooth that has been damaged.
Protection against further damage.
Rid of any pain or stress that may come from an imperfection in your smile.
Disadvantages?
Depending on the care that you need, the price of your emergency dental work may not be something that you are prepared to pay. However, we aim to provide you with options that keep your budget in mind.
Another concern that comes from many patients is that emergency dental care can be incredibly scary. We understand that completely, especially if this is your first time with a new dentist. We'd like to invite you to come down to our office today for a general cleaning. Not only can we provide you with a routine checkup, you also can get a feel for our office. In the event that you ever need emergency dental care, you can rest assured knowing you'll feel comfortable with us.
Is Emergency Dental Care Right for You?
No matter who you are, you should be considering emergency dental care. Even if your teeth are currently in great shape, you never know what problems might be right around the corner. To save yourself a whole lot of pain and headache, know who you can call when you have a dental emergency.
To learn more about emergency dental care, contact Karen Gordon, DMD at (954) 613-9837. We are located in Hollywood, and we serve all of southern Florida. Dr. Gordon looks forward to meeting with you, and providing you with all of your dental care needs.