What to Do if the Dental Office Floods from Hurricanes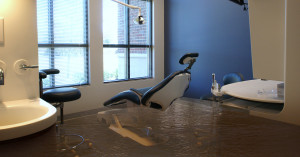 Often, if a hurricane has struck, this is only the beginning of more problems to come. Hurricanes can lead to flooding, which can devastate towns and ruin homes and businesses.
If you are a business owner, such as a dentist who owns his own practice, you need to prepare for possible hurricanes and their aftermath.
Flooding can destroy important and expensive equipment and patient records, and make it time-consuming, difficult, and costly to get back to regular business. Here is a checklist of what to do to protect your practice or business from floods, courtesy of the staff at Karen Gordon, DMD.
Steps to take ahead of time:
Make sure you are up-to-date with your insurance, and that you know the details of your insurance policy regarding hurricanes and flooding.
Assign an employee to be in charge of backing up files and performing other duties that can help protect records. Electronic files, such as patient records, billing records, and staff information should be backed up regularly to an off-site location.
Put together an inventory of all important equipment, for both insurance and tax purposes (make sure this inventory is stored in a safe place, such as a safety deposit box).
Ensure that bottom shelves are 6″ off the floor.
Use high-quality, strong storage boxes for records.
Identify any areas where water may penetrate so you can take steps to prevent this, and inspect them regularly.
Raise sockets to at least 5 feet off the floor.
Use water-resistant building materials in your office. Install tiled floors and cover them with rugs instead of carpet, and use water-resistant lime-based plaster on your walls.
If a hurricane is on the way:
These, of course, are steps you should take as long as it is safe to do so:
Make sure computers are raised as high off the floor as possible and move them away from windows
Cover or protect vital documents and electrical equipment, or if possible, move vital documents to a protected area
If your office has flooded:
Do not touch any source of electricity if you are standing in water
If you have to go into a flooded area, be very careful. There may be dangerous or sharp objects under water that you can't see.
Avoid contact with flood water, which may be contaminated. Wash your hands regularly if you do have to touch flood water. Do not eat food that has come into contact with flood water.
If you live in an area that is prone to natural disasters such as hurricanes or flooding, it is important to be prepared and to know what to do ahead of time. It may take a bit of effort, but it is worth it if disaster strikes!
Dr. Gordon wants to make sure you stay safe during an emergency. She wants to make sure you have a healthy smile, too! Call her office if you have questions.