Wash Your Mouth with These Mouthwashes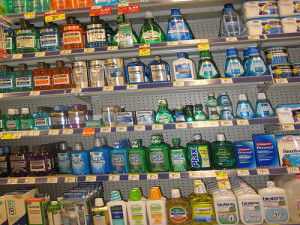 Before we start talking about the variety of mouthwashes and their advantages, let us make one thing very clear, "using mouthwash or mouth rinse is in no way a substitute for brushing twice and flossing once a day."
Now that that is out of the way, let's discuss how beneficial mouthwashes can be and how many types are there for you to use.
As per recent studies, one in four adults has never used a mouthwash in the United States and only 31% of the adults even use mouthwash regularly. This is quite surprising since mouthwashes offer many advantages, are really not that expensive, and are actually really simple to make at home too.
Purposes of Using Mouthwash
Mouthwashes are used for a variety of purposes:
To prevent tooth decay
To freshen breath
To reduce plaque
To reduce gum disease or prevent it
To prevent cavities
To prevent tartar accumulation
Types of Mouthwashes
Among the several types of mouthwashes in use, these five mentioned below are the most common:
Cosmetic or Therapeutic Mouthwashes
Cosmetic mouthwashes are probably the most universal; these are used as breath fresheners. There aren't enough anti-bacterial ingredients in them so if you are looking for an anti-plaque mouthwash, you should look at other varieties.
Antiseptic Mouthwashes
These are proper anti-bacterial mouthwashes that contain , chlorhexidine gluconate, a chemical which fights the growth of bacteria. And as a bonus, they also freshen the breath.
Fluoride Mouthwashes
These mouthwashes have sodium fluoride in them which helps strengthen the enamel layer. In addition to that, it provides extra protection against the acids produced by bacteria responsible for tooth decay.
However it's important to remember that fluoride is present in water and toothpaste as well, so you need to be wary of excessive fluoride intake.
Magic Mouthwashes
The solutions used to treat mouth sores are called magic mouthwashes. Cancer patients who develop mucositis are usually advised by their doctors to use these mouthwashes. They contain ingredients like antibiotics, local anesthetics, glucocorticoids, nystatin, and Maalox to treat the worsening conditions in the mouth.
Natural Mouthwashes
These mouthwashes are usually free of fluoride and can be made at home. Many people prefer a solution of warm water with a pinch of salt or baking soda over industrial mouthwashes.
If you have any questions about the use of mouthwash as part of your oral health care regimen, please schedule an appointment with us. Call Dr. Karen Gordon, DMD, at (954) 983-9004 or schedule an appointment online. You can also visit our office at 3990 Sheridan St. Suite 216, Hollywood, Florida.