CEREC Technology in Hollywood, Florida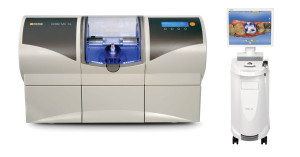 As the best dentist in Hollywood, Florida, Dr. Karen Gordon does what she can to bring her patients the most advanced dental techniques and equipment to make every appointment a better one. This is why she has recently added a new Chairside Economical Restoration of Esthetic Ceramics machine to her arsenal of advanced tools. Here is a little more information about the technology and how it adds substantial value to our patients and our practice.
What is CEREC?
It is a computer-aided design and computer-aided manufacturing (CAD/CAM) dentistry tool. The technology was first developed by W. Mormann and M. Brandestini in 1980 at the University of Zurich and today the machines are manufactured by Sirona. It uses 3-D photography and CAD/CAM technology that allows Hollywood, FL, dentists to construct, produce and install individual ceramic restorations (inlay, onlay, crown or bridge) in-office. So what used to take multiple appointments for evaluation, impressions and off-site lab manufacturing can now be accomplished in just one appointment. Now our Dr. Gordon can create near perfect restorations on a regular basis.
How Does CEREC Work?
CEREC treatment usually includes the following:
First the dentist will prepare our tooth in the usual manner. Dr. Gordon cuts down some of the structure and reshaping the area to make room for the restoration.
She makes a digital impression of the area. As soon as the tooth can easily accommodate the crown, Dr. Karen Gordon will use a specialized intra-oral camera to take digital images of your teeth.
The digital information is uploaded on the design unit that uses CAD/CAM software. This creates a 3-D model of your restoration, which acts as a blueprint.
The information is sent to the milling machine. Our Hollywood, FL, dentist then uses the on-site milling machine to create your new tooth from a block of high-quality, meta-free, biocompatible dental ceramic that matches the natural structure of your teeth.
As soon as the tooth is ready, Dr. Gordon can stain the ceramic and give it a final polish. That way, the restoration matches the rest of your teeth.
She fixes the restoration in place. Lastly, Dr. Gordon cements the restoration over the reshaped tooth, makes any minor adjustments, and your restoration is completed. The entire procedure takes one or two hours.
Benefits of CEREC Technology
The advantages of this advanced machine include:
Fewer visits
Lower cost restorations
Shorter appointment times
Only one anesthetic injection
Long lasting results
95.5 percent success rate
More natural-looking restorations
No off-site lab fees
No temporary restorations
Biocompatible materials instead of metal alloys
No bulky molds that make you gag
No issue with inaccurate dental impressions
When Would I Need a CEREC Restoration?
Have you cracked a tooth? Suffered from extensive decay? Need a crown, inlay, onlay or bridge? If so, then you might be a candidate for CEREC same-day restorations. You might consider visiting a CEREC restoration dentist in Hollywood if you have outdated dental work that needs replacing or want to replace unsightly metal restorations with a biocompatible, more natural-looking ceramic one.
Why Should You Choose Our Hollywood, Florida, CEREC Dentist?
With CEREC technology, Dr. Karen Gordon has full control over the restorative procedure from start to finish. She can remove damaged or infected enamel, mill down your tooth, and design, fabricate and fit your new restoration all in one appointment. With her experience and expertise, no one will ever need to know you have a dental crown, inlay, onlay or bridge. Your comfort and quality care are assured with CEREC same-day restorations.
Want to learn more about this advanced dentistry or looking to schedule an appointment? Call us at (954) 289-6380 and get in touch with the Karen Gordon DMD today.