Can An Apple A Day Also Keep The Dentist Away?
According to the Academy of General Dentistry, the dietary habits of today's kids lean toward a greater intake of sugar.  This greatly increases the risks for cavities and other oral health problems.  As a parent, it is your responsibility to monitor the diet of your children.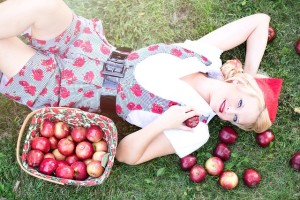 This not only means watching what they eat at home, you must also monitor what they eat at school.  One of the best ways to encourage healthy eating habits is to offer them healthy snacks such as apples, and other foods that have natural sweetness such as opposed to candies, chocolate, and other types of foods that contain refined sugar.
One of the best things you can do as a parent is to set the right example.  Children will often imitate your actions.  If they see you eating healthy, odds are higher that they will make better choices as well.
Organisms that cause cavities feed on the sugar, and the by-product is acid.  This acid attacks the enamel of the teeth, and is one of the primary causes of tooth decay.   If one of your children just cannot go without a sugary snack after a meal, make sure they brush their teeth and rinse with water to clean the surface of their teeth.
Make a point to find out just what your child's school lunch program has to offer.  If healthy alternatives are not available, you need to talk with school officials to get them to incorporate some better foods for your children's dental health.  Another option is to consider having professionally-applied dental sealants to their children's teeth.  This is a thin coating, that when applied to the teeth, acts as a barrier to bacteria that can cause cavities.  They may be applied as soon as a child's first permanent teeth, also known as the molars or back teeth, appear.
So can an apple a day also keep the dentist away?  When sugary snacks are also avoided, they certainly can.  If you have questions on this and more, contact Dr. Karen Gordon DMD.